In this post I am going to consolidate all my published work on stitching leather by hand. After related blog posts have been incorporated here, I will delete the originals.
Here hand stitching in three different ways are shown:

From primitive video times, a few seconds to show how the center post of the tool glides against the edge of the leather. The tool is held at a 45 degree angle to give the small hole in the elbow piece the best chance of cutting the groove..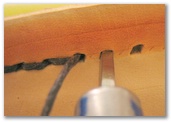 This is how the holes are positioned for handstitching. Note that I am just using every second mark made by my stitch marker.
In this blog post from long ago, you can see a sky hook that my friend Tommy McLintic designed and published: