So in December this happened:  The city is redoing Nicolette – the whole street will remain car-free and get beautiful tree lanes and walkways and places to sit and be enjoyed.
To do that, they are tearing it up numerous times and doing all sorts of ruff stuff.  So a world known statue of Mary Tyler Moore was taken off the mall and put in storage.  We even had people coming into the store and ask us where the statue was.  So someone got the good idea to take her out of storage and place her in our store.
So we had to almost completely strip the store for the seven hundred pound lady to move in and her ton and a half base to be placed under her.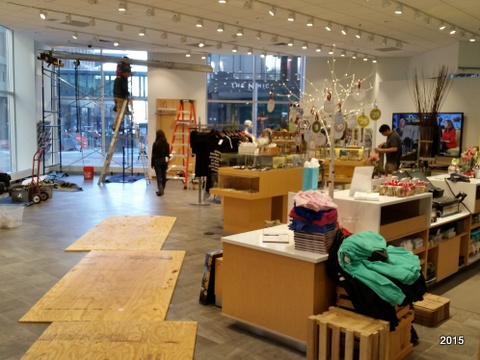 After hours of careful dancing, she arrived at her home for the next two years or so.  Then she will go and brave the elements again.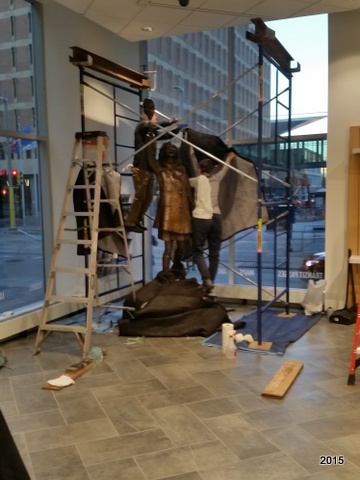 And there she is.  Ready for people to borrow our selfie stick and get pictures of her.  And you will have a tough time convincing me that this is not the most photographed statue in the world!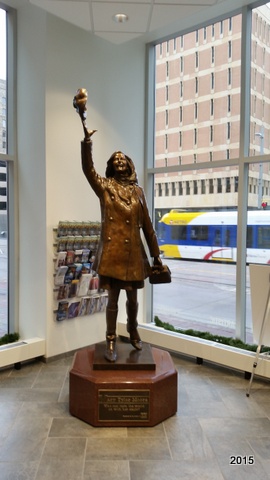 Some sunrises just compel you to take out the camera.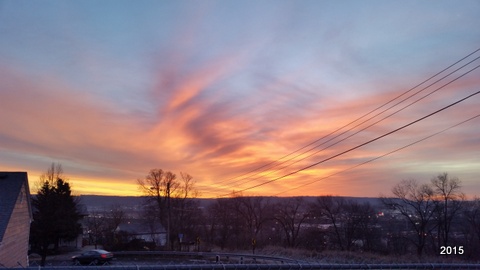 Working downtown makes for a few weird surreal scenes.
Like on this one early Saturday morning. NOBODY on the streets at all, except …..  these protesters for green energy, who started a march in front of an energy company building where there was nobody at work to see them.  One was blaring on a bullhorn and they were chanting; and THERE WAS ZERO AUDIENCE TO SEE OR HEAR THEM!!!!   Just me peering through the window of the store before opening time, wondering if I had awakened in a type of Alice-In-Wonderland alternative reality…..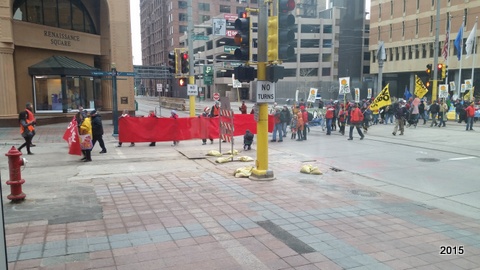 The day after Christmas (we did not have a white one) saw the second snowfall of the winter and the start of more permanent temperatures under freezing.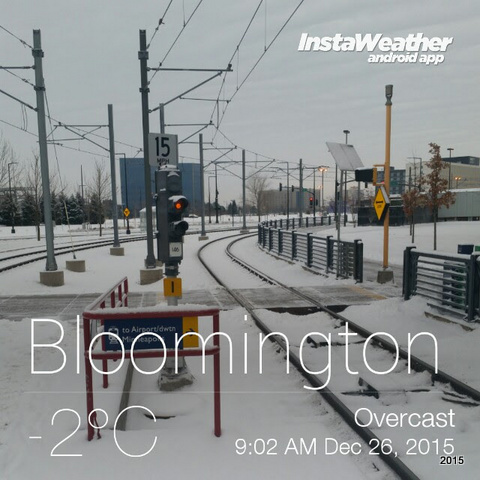 I am not sad that the year is over.  But it is always important to focus on the positive things in our lives.
Two dogs always fight in your life – a white and a black one.  The one you feed most, will win.  Have FUN!!!!